Welcome to Jeep Happy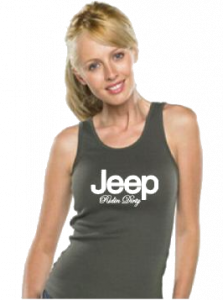 At Happy4x4.com we offer hundreds of different Jeep gifts, accessories, and clothes. Every Jeep enthusiast needs at least one Jeep shirt hat or belt, and you'll be sure to find several hot items, like tire deflators jeep spare tire covers and key chains.
We're all familiar with the Jeep lifestyle – the fun loving outdoor people who don't mind getting alittle dirty. With gear from JeepHappy you'll be able to be a part of that lucky group of Jeep owners. Jeep hats and sports bottles will help you on those treks through the wilderness, or the much loved camping trips. If you've got a family then you'll love our collection of Jeep strollers (these are some of the best jog strollers on the market!) as well as our clothing for kids.
Just pick the category you'd like from the list to the left, and remember – Have fun out there!